Design and Functional Principles
Titus damper assures reliable damping at any closing speed. With its efficient modular design it offers quick development of customized solutions for various furniture and other applications.
Functional Principles
Titus dampers slow down linear or rotary movement before reaching a resting position.
By converting kinetic energy into thermal energy, hydraulic dampers reduce hard shocks and oscillation amplitudes. In a linear damper, the kinetic energy of the moving object is transferred through the steel rod to the valve in the damping cylinder. Hydraulic fluid is pushed through the valve and heat is generated. As the spring returns the valve to its original position, hydraulic fluid flows back into the damping chamber.
Operating Scope
High coefficient of Titus damper assures efficient damping at any closing speed, even very slow. We can easily adapt damping force to your needs. Damping action is even and smooth for soft and reliable closing. 
Fh - damping force at slam speed (740mm/min)
Fl - damping force at slow speed (60mm/min)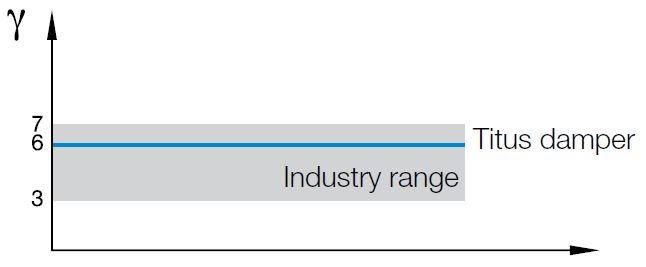 Reliable Damping at Any Speed
Higher coefficient means reliable damping at high speed and ensures that the system will reach its final position even at a very slow speed.
Damping Action
Flat Damping Action

Flat or linear damping curve shows the uniform action produced during damper closing at a defined speed.

Progressive Damping Action

Ramp damping curve shows the progressive action produced during damper closing at a defined speed.
Damping Action with Final Release

Damping curve with final release shows the flat/linear damping action produced during damper closing at a defined speed and drop of the force before the damper reaches the end position.

MultiStage Damper

The new damper's specific shape brings a controlled function through more stages. At the beginning the lower damping force is applied to slow down the object and prevent re-bounce, while afterwards there is a higher damping force applied to assure efficient deceleration of damped object.